« Laß uns bitte eine andere Stadt besuchen!
Florenz, Italien
founded in the first century B.C.




"The name 'Florence' comes from a Latin word which means 'flower', Cousin Isabel"? "Thank you for that information, little Danny! How did you know that?" "My big brother Eugene told me."

Florence flourishes!

Florence is known for its history, art and culture.

The Arno River runs through the city of Florence.

Florence comes from a Latin word which means "flower"!


History is fun! Visiting a city is a good way to learn about its history, and a city that has been around for more than 2000 years has lots of stories about the past to share! If you were here, we could have fun learning about the history of Florence together . . . . Can you think of some stories to share?
| | | |
| --- | --- | --- |
| Santa Maria del Fiore | | If you were here,we could visit the Cathedral of Santa Maria del Fiore which is located on the Piazza del Duomo. Duomo is Italian for cathedral which is why this cathedral is simply called the Duomo much of the time. The Duomo is one of the most famous sites in Florence! You surely noticed that the outside of the Duomo is very colorful and fanciful. It is covered with pink, white and green marble. It looks fine inside, too with its paintings and beautiful stained-glass windows by famous Italian artists. |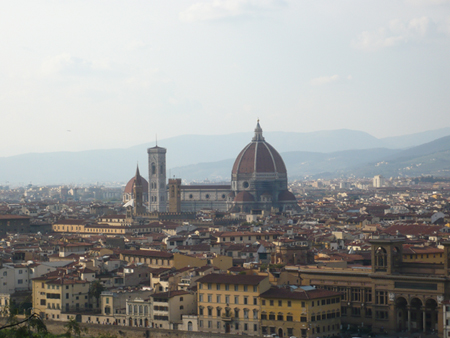 The Cathedral of Santa Maria del Fiore
from a distance
"What are all of these shops doing on this old bridge"?
It's the
Ponte Vecchio

which actually does mean
Old Bridge
in Italian. Among the shops on the lower level, the goldsmiths' shops and jewelers' shops have been there since the late Middle Ages. That's 500 – 700 years ago! As a matter of fact, the
Ponte Vecchio
is one of the few remaining "living bridges" in the world. Just about every kind of jewelry making and metal crafting is done in these shops! Do you like jewelry or know someone who might? You can purchase handmade art objects, including fine artistic jewelry, and metal-craft objects,
something really special for someone really special!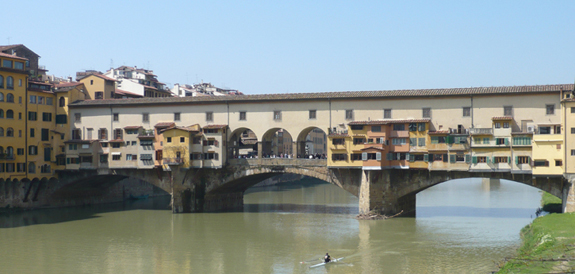 Ponte Vecchio
Back in the 1400s, there was a wealthy and powerful family called the Medici family. The Medici family controlled Florence and used their money to support politicians and artists. Have you ever heard of Michelangelo, Leonardo da Vinci or Botticelli? They were some of the famous artists supported by the Medici family. Can you name one of their works of art?

Michelangelo: David . . . David . . . David . . . David

A Marble Sculpture

Michelangelo was also a painter.
Leonardo da Vinci: Mona Lisa . . . Mona Lisa . . . Mona Lisa . . . Mona Lisa

A Famous Painting

Leonardo da Vinci was also an inventor.
Botticelli: The Birth of Venus . . . The Birth of Venus . . . The Birth of Venus . . .

A Famous Painting

Sandro Botticelli was one of the greatest painters of the Florentine Renaissance.
If you were here, we could see Michelangelo's David at the
Accademia
.

A copy stands where the original once stood in front of the
Palazzo Vecchio
which is also called the
Palazzo della Signoria
.

We could also see
The Birth of Venus
. It hangs in the
Uffizi Gallery

which is a famous art museum in Florence. The
Uffizi
has more than 100,000 drawings and prints. It would be difficult to see all of them in just one day, wouldn't it!
The
Mona Lisa,
however, is in the
Louvre
in Paris, France, so we will have to see it some other time . . . .
"Whoa Horsey"!
Is that dome sinking into the ground or is this just a tricky picture?
What do you think?



It's tricky, isn't it?

By the way, the statue in the photo above is by the sculptor Giambologna. The man on the horse is Grand Duke Ferdinando I, and the statue stands in the Piazza della Santissima Annunziata, the Plaza of the Most Holy Annunciation.

You can see the front of this Statue on Google Earth. Just type in "Piazza della Santissima Annunziata, Florence" and off you'll go!



Fascinating . . . .

Love, Oma
~~~


Help SOMEONE you know learn about this famous place!
Click on the gamecard postcard below to place your order, and Heckery Dekkery Dot will send it on its way to help YOU get the travel game underway!

It's FUN! And, it's EDUCATIONAL, too!

Who will win?

Everyone wins when children learn more about the world around them!


~~~

Thank You:
http://www.britannica.com
http://kids.britannica.com
Britannica andBritannica Online for Kids are excellent resources for information.

http://unabridged.merriam-webster.com

A special thank you goes to my daughters Alicia and Janella for their valuable input and to my husband Barthold, to Eveline, and to the Damen der Englisch-Gruppe in Marburg for their help with the German translations.


Please ask a parent or another grownup to travel with you whenever you visit on-line sites. It's much more fun than traveling alone!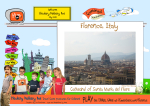 Vergrößern

Florenz, Italien - (1) "Florence" comes from an Italian word meaning "flower!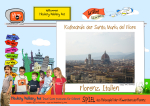 Vergrößern

Florenz, Italien - (2) "Florenz" kommt von dem lateinischen Wort Flora: Blume.